Once a city bustling with trade, Glendell Glade is rarely visited by outsiders anymore. Situated at the edge of The Living Forest, the resurgence of monsters has made traveling to and from Glendell Glade far too dangerous for most people.
Glendell Glade is the starting area for all players. It contains the easiest monsters, the cheapest armor and weapons in its Forge, and sells the basic four Plastic Tools. It is always free to travel to.
Layout
Cracked cobblestone roads pave the streets lined with dilapidated buildings, few of which are still in use. Notably, the town Forge is still relatively well kept, being one of the few businesses that have managed to continue operating. Apart from the surrounding wreckage, however, is an exceptionally ornate fountain sitting prominently in the center of town.
The City Square contains all that is interesting about the town. The player can travel to The Forge to buy various items (see below), to The Living Forest to battle monsters (see below), and to the four Harvesting areas, The Fishing Dock, The Lumber Mill, The Mines and The Quarry, where Food, Wood, Iron and Stone respectively can be obtained.
There is an option to talk to a wizened old man, sitting peacefully by the fountain.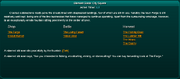 The Forge
Dimly-lit and uninviting, the Forge is one of the few shops still open for business in Glendell Glade. However, the shop is empty other than the counter in the front and a beautifully polished anvil sitting in the back.
The Forge is the place to buy new equipment. It sells one of each type of weapon and armor, as well as one of each tool. Glendell Glade's Forge is the only place to acquire these tools, and it is highly recommended that the player should buy all four of these tools before traveling to The Murky Mire.
There is an option to talk to a stout man polishing his anvil.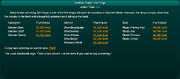 The Living Forest
Surrounding the city in every direction, The Living Forest stands in the way of all who wish to travel to or from Glendell Glade. While that previously wasn't a problem, The Living Forest has reawoken to protect itself, detecting the resurgence of monsters throughout the realms. The only problem is . . . sometimes it's difficult to distinguish between monster and man.
The Living Forest is the place to battle
monsters
.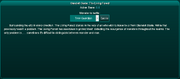 | | Name | Health | Experience | Gold | Drop |
| --- | --- | --- | --- | --- | --- |
| 1 | Giant Ant | 59 | 2 | 1 | |
| 2 | Giant Wasp | 99 | 3 | 2 | |
| 3 | Scurrying Rat | 185 | 4 | 3 | |
| 4 | Forest Spider | 333 | 7 | 5 | |
| 5 | Amarok | 555 | 8 | 6 | |
| 6 | Gigantic Beetle | 864 | 10 | 7 | |
| 7 | Towering Treant | 1,273 | 13 | 9 | |
| 8 | Leech | 1,794 | 16 | 10 | |
| 9 | Forest Gnome | 2,438 | 17 | 12 | |
| 10 | Forest Troll | 3,217 | 20 | 13 | |
| 11 | Pinebrush | 4,141 | 22 | 15 | |
| 12 | Timid Snail | 5,221 | 25 | 16 | |
| 13 | Razorbeast | 6,468 | 26 | 18 | |
| 14 | Centaur | 7,892 | 28 | 19 | |
| 15 | Ibex | 9,503 | 32 | 22 | |
| 16 | Green Glob | 11,311 | 34 | 24 | |
| 17 | Locust Swarm | 13,327 | 36 | 25 | |
| 18 | Kehra | 15,559 | 39 | 27 | |
| 19 | Plague Brush | 18,018 | 41 | 28 | |
| 20 | Vexling | 20,713 | 44 | 30 | |
| 21 | Stonesinger | 23,654 | 47 | 32 | |
| 22 | Pink Glob | 26,849 | 49 | 33 | Ooze Gel |
| 23 | Tangleclaw | 30,308 | 52 | 35 | |
| 24 | Dracotaur | 34,040 | 54 | 36 | Dragon Scale, Dragon Tail |
| 25 | Wood Woad | 38,054 | 57 | 38 | |
| 26 | Chelicerata | 42,359 | 59 | 40 | |
| 27 | Red-Shelled Snail | 46,963 | 62 | 42 | |
| 28 | Mighty Dryad | 51,876 | 65 | 44 | |
| 29 | Pseudodragon | 57,107 | 67 | 46 | |
| 30 | Tree Guardian | 62,663 | 70 | 47 | |